The representative Ryoko Kubota's message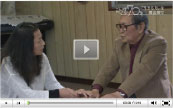 * NHK Hiroshima interview of reciting the drama "Titi to Kuraseba – Living with my father"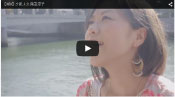 * Youtube music video "Yunagi - an Evening calm" by Ryoko Kubota
My hometown is Hiroshima, and my grandmother is a A-bomb survivor.
Last year, I had a chance to teach a reciter Hiroshima dialect who would read aloud a drama "Titi to Kuraseba – Living with my father," which story was set in Hiroshima. Coordinating this reciting event in Hiroshima, I faced again August 6.
I was deeply impressed by the sincere attitude of the reciter and actress, who tried hard to receive the messages from Hiroshima A-bombing tragedy and recite the story with her whole heart. She is from one other prefecture. This gave me an opportunity to reconsider what I – I am from Hiroshima –should and have to do for my hometown.
First of all, I made my feelings into a song "Yunagi—an Evening calm" with my impressions through the reciting event.
For making a music video for this song, I visited several places and people associated with the theme.
Through the experiences, I felt naturally and deeply the warmth, pain, and strength rooted in Hiroshima.
"The 3rd generation, who has grown up without any experience of the war, should succeed to the A-bombing memories and the survivor' s feelings." We know its importance in mind, but we might not be aware of it enough without any opportunity for that in our real life. In the meantime, the voice of the A-bomb survivors tends to get weakened with the passing of the years.
In the questionnaire to 1,526 A-bomb victims all over the country, performed by Chugoku Shimbun (newspaper) in 2014, there was a question "What kind of action do you think will be the most effective for handing down your A-bomb experiences to the subsequent generation?(multiple answers)"
--Peace study, including school excursion to Hiroshima and Nagasaki, should be activated. 45.7%
--The second and third generation of A-bomb victims, and their family members should succeed to their memories. 37.2%
-- Next-generation professional tellers and guides such as "Memory keepers" in Hiroshima, or "Peace guide" in Nagasaki, should be brought up and continued to be supported. 33.8%
The three answers above are largely assented.
How should we work on the task of"peace study "or "succeeding to Hiroshima' s history"? When we receive the revived knowledge of the war, what should we learn from it? How should we move on with it? When the survivors tell their war memories in the present day, how should they themselves feel? What do they try to convey?
I planned this project with the artists, actors and creators from Hiroshima or other prefectures who is considering "succeeding to Hiroshima' s history".
This Exhibition aims at setting up a spot for those who are not yet familiar with peace study, especially for young people, and providing them with an opportunity to generally think about war and peace centering on A-bombed Hiroshima.
From this year on, this Exhibition will go around all over the country. It would be my extreme happiness if the visitors get a hint for their thinking about the devastation in the past, and find their own questions and answers.
Ryoko Kubota